20k users on ChainEX! You did it!
From 10 000 users on 28 October 2020 to 20 000 on 12 February! You did it!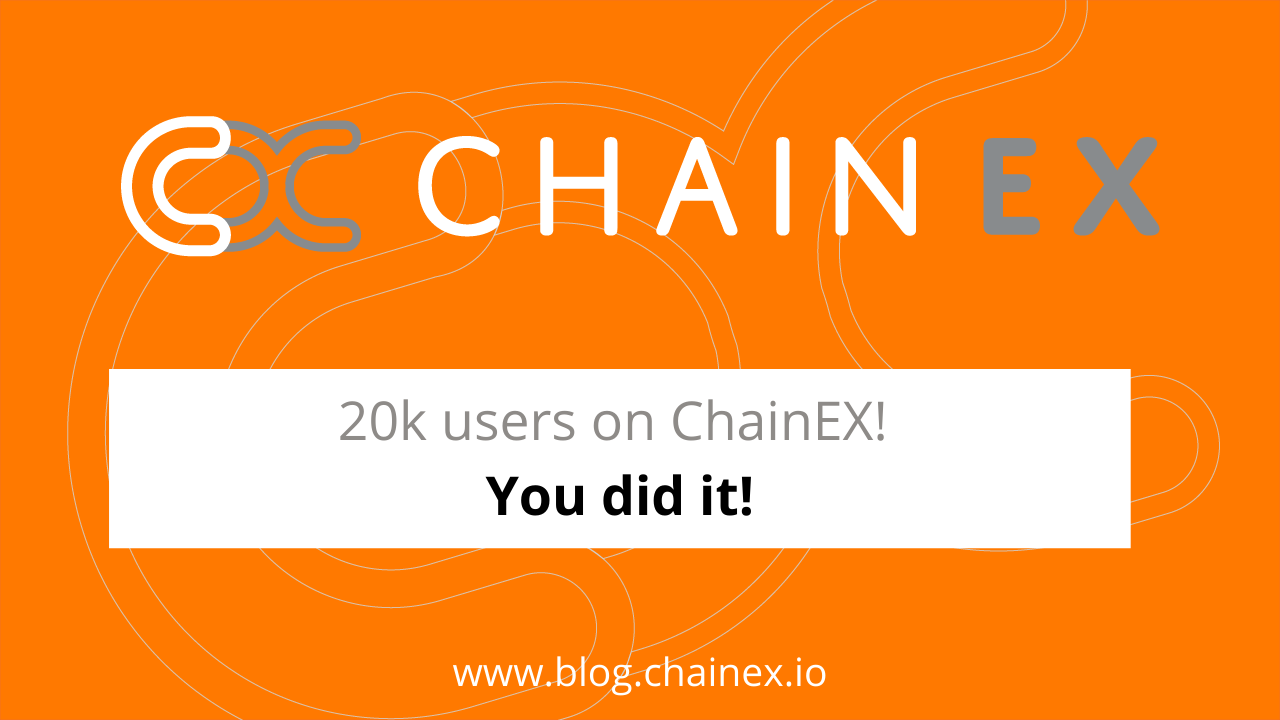 From 10 000 users on 28 October 2020 to 20 000 users on 12 February 2021, ladies and gentlemen, you did it! You helped us double in a space of under 4 months!
The history of ChainEX
Our team of experts has worked all over the world for and with top companies. They've been pulled together from various backgrounds and industries, on a mission to upgrade the world to a better financial system. ChainEX is a proudly South African Cryptocurrency Exchange that will always keep you as a trader at the forefront of its mind.
"ChainEX, founded in 2018, is another exchange hoping to make an impact. Founded in 2018, the platform provides South Africans with a secure, user-friendly platform to buy, sell and trade various cryptocurrencies, including Bitcoin and Ethereum, with the South African Rand as the default fiat currency." — Disrupt Africa said it best.
From our key partnership with OKEx in July 2020 to our latest coin listings in January 2021. The OKEx partnership gives us a national and international footprint in the industry and means more liquidity for you as traders.
During the past 12 months, we have focused on developments and listings that will ensure that you, our users, have the best experience possible at ChainEX. Our most recent partnerships with signal providers & market analysts IntoTheBlock & BlockTrading are aimed at giving you access to a broader perspective & education on the crypto market! Sign up today!
ChainEX News
You've heard of us, right? Or at least read about us. I mean, even Google knows us . Feel free to leave us a review on Google and let us know what you think. We've been featured by notable press publications such as Disrupt Africa, Ventureburn, TechInAfrica, Global Crypto & many others.
At ChainEX, we don't believe in chance, coincidence, or that success is only reserved for some. We believe in purpose and that if you make up your mind and follow your dreams wholeheartedly, believing that anything is possible, the rest will follow. Press publications and the public recognize this.
The future is bright at ChainEX as we continuously work on improving the exchange. Our plans include expanding our asset base by introducing more digital currencies to our trading platform, providing you with an even better experience and more exposure to the world of cryptocurrencies.
What gap did ChainEX identify?
The gap we identified was a lack of fast support, efficiency, uniqueness, and innovation. Most importantly, listening to and hearing you as our users. ChainEX provides fast, real-time, and efficient support. Our telegram channel has team members ready, willing, and able to respond to questions in minutes.
We offer different unique order types that no other exchange in the country offers. We're currently the only exchange in South Africa to have listed coins such as Bitcoin Vault, SUSHI, YFI & UNI.
What are the ChainEX milestones?
So what happens now?
Now? Well, now you help us get to 50k users! Refer your community, your friends and lets grow ChainEX together!
Invite a friend to ChainEX and earn more rewards! Plus you'll be partnering with what could potentially be the best cryptocurrency exchange in South Africa. I mean, EVERYONE is talking about ChainEX.
ChainEX is a South African digital asset exchange that provides a platform for South Africans to buy, sell, or trade a variety of different digital assets using the South African rand as the default fiat-buying currency. And also the first South African crypto exchange to list Bitcoin Vault, YFI, SUSHI, LINK & UNI! The South African crypto market is growing by the day!
ChainEX provides you with a secure, online platform from which you can purchase and trade with different digital assets. But you know this already.
Get to know ChainEX
Download your app | Who is ChainEX? | FAQ's | Sign Up | Follow Us |ChainEX Markets | ChainEX Security | More friends, more crypto
Disclaimer:
There is no such thing as a 100% safe investment, and each decision has its risks. In any case, it is up to you to decide. All content and topics covered are mere opinions and do not constitute investment advice. Trading and investing in Bitcoin or any cryptocurrency carries a high level of risk. We do not assume any responsibility for actions taken upon reading any of our articles. ChainEX is not a financial advisory firm, investment manager, or financial consultant.