Have you heard?! ChainEX has partnered with OKEx!
Have you heard?! ChainEX has partnered with one of the largest exchanges wordlwide!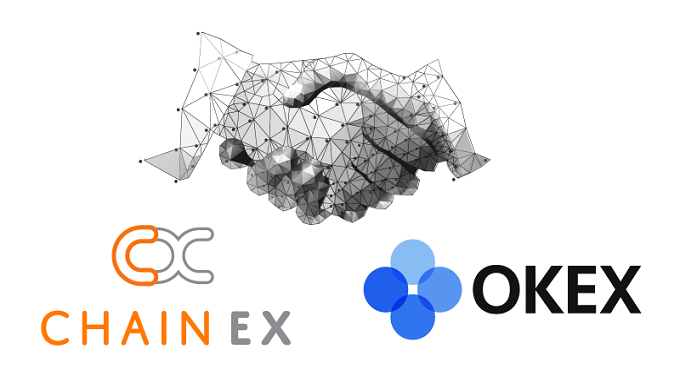 ChainEX has partnered with a globally recognized exchange, OKEX!
Wait, you mean THE OKEx?!
Yep, that's right ? your local South African cryptocurrency exchange has partnered with one of the world's leading, largest and well-renowned exchanges!
But, who is OKEx exactly?
OKEx is a world-leading cryptocurrency exchange, providing advanced financial services to traders like you globally, by using blockchain technology. OKEx provides 100's of trading pairs to help you optimize your strategy.
It's all about the million ?
With just over 20 million users in over 100 countries, OKEx has nearly $1.5b daily trading volume. Wanna know a fun fact? They've reached more than that in the past ?
With a mission to eliminate barriers to transactions and increase the efficiency of transactions across society, this partnership promises to give your partnering exchange ChainEX,  a national and international footprint in the industry.
But wait, what about you?
Don't worry ? We haven't forgotten about you. All of this is for you as our loyal partner and trader! This partnership signifies a milestone for ChainEX and you as a trader and partner. This partnership with one of the world's leading and internationally recognized exchanges means more liquidity for you and an opportunity to introduce you to one of the best exchanges globally. Cool, right? ?
"This collaboration will give many South Africans and Africans access to a Top Tier, Global Cryptocurrency Exchange, as well as bring new liquidity and volume to ChainEX." — Ryno Mathee, CTO of ChainEX
"OKEx respects partnership as the key steps to develop and provide local services to users. In the meanwhile, building a win-win cooperation with ChainEX will lead us to a better future." — Ivan Chen, Business Manager of OKEx Africa
So, what's next?
Easy. Sign up with ChainEX and partner with the crypto and liquidity movement ?
ChainEX provides you with a secure, online platform from which you can purchase and trade with different digital assets. Not only do we provide a platform for you to trade, but we also reward you for the people you refer!
We not only want you to succeed at ChainEX. But we also want you to impact those around you and potentially build your own crypto trading business, we've built the platform to allow you to invite and refer your friends and family to the platform and earn when they trade! For a complete guide on how the system works, read our article on it. ?
Get to know ChainEX
Who is ChainEX? | FAQ's | Sign Up | Facebook | Instagram | What is Bitcoin? | ChainEX Markets | ChainEX Security | YouTube
Disclaimer:
All content and topics covered are merely opinions and do not constitute investment advice. Trading and investing in Bitcoin carries a high level of risk. We do not assume any responsibility for actions taken upon reading any of our articles. ChainEX is not a financial advisory firm, nor are we an investment manager.