More friends, more crypto!
How many friends do you have? How many people are in your circle? Now imagine if all those people paid you.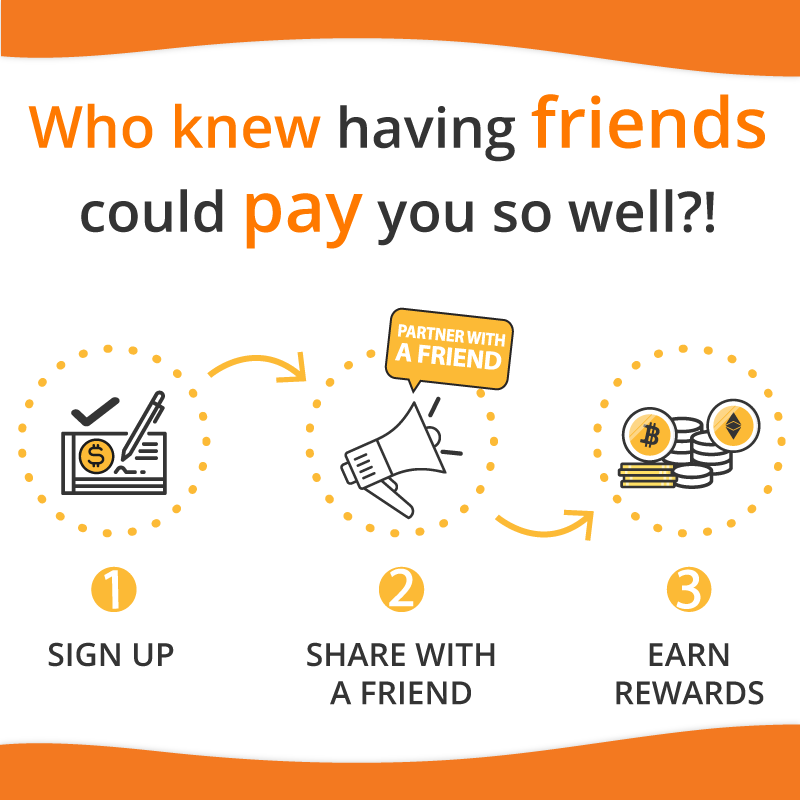 How many friends do you have? How many people are in your circle? Now imagine if all those people paid you. They don't, do they? No, unless you have really generous friends 😃
The three steps to making extra money
Step 1
Sign up on ChainEX, the best crypto exchange in South Africa. Already have an account? Awesome! In that case, log in!
Step 2
The easiest step of them all. Share your unique link with your circle! Head to the referral page on ChainEX and find your link! Here's how to find your link:
When you're on the referral page, scroll down until you see the "Invite and Share" section. Once you see it, you'll find your unique referral code and sign up link.  Hit the copy button and share your link on all platforms! The section looks like this:
Step 3
The step you've been waiting for. The least effortless step: sit back and earn rewards!
Facts & figures
2020 has been somewhat of an unpredictable year. Nonetheless, you as our ChainEX traders have made the platform what it is today!
It's all about the coins
In the past few months alone we've paid out a total of 0.098 BTC between the period of July — September 2020. With September having had the highest payout at 0.045 BTC!
Let's not forget Bitcoin Vault. The coin you all love to trade so much has gained so much traction from you! A total of 8.7 BTCV was paid out between July — September 2020! September had the highest payout AGAIN with 4.65 BTCV!
As for October? It's not even done yet but we've already awarded 2.5 BTCV and 0.22 BTC!
Fun fact: Did you know ChainEX is listed on the Bitcoin Vault website as one of the Bitcoin Vault Exchanges? 😄
What's the catch?
No catch. Just a few things to remember:
You qualify for referral rewards based on the trades of your referred users.
Referral rewards are paid in the currency that your friends trade with, e.g. if a user makes an ETH/BTC trade, the fee and the rewards will be paid in BTC.
It's possible to receive rewards in more than one currency during the referral process if trades are completed in more than one base coin.
ZAR market fees are paid in the traded digital currency and not ZAR. You will receive your reward in the digital currency, e.g. if a trade was completed on ETH/ZAR, you will receive the reward in ETH.
The calculation of the referral rewards is an automated process that will be triggered and processed every time your friends execute a trade.
Rewards will be deposited in your ChainEX wallet address.
We will update you on your referral rewards via weekly referral earnings reports sent automatically to your e-mail address.
So what's next? Can I buy some crypto?
If you're not signed up to ChainEX, get to it! Plus you'll be partnering with what could potentially be the best cryptocurrency exchange in South Africa. I mean, EVERYONE is talking about ChainEX.
ChainEX is a South African digital asset exchange that provides a platform for South Africans to buy, sell, or trade a variety of different digital assets using the South African rand as the default fiat-buying currency.
ChainEX provides you with a secure, online platform from which you can purchase and trade with different digital assets. But you know this already :)
Get to know ChainEX
Who is ChainEX? | FAQ's | Sign Up | Follow Us |ChainEX Markets | ChainEX Security | YouTube | More friends, more crypto
Disclaimer:
All content and topics covered are mere opinions and do not constitute investment advice. Trading and investing in Bitcoin carries a high level of risk. We do not assume any responsibility for actions taken upon reading any of our articles. ChainEX is not a financial advisory firm, nor are we an investment manager.