Have you heard? ChainEX is ready to play!
You've been asking and we've been listening. Our Android app is available for download!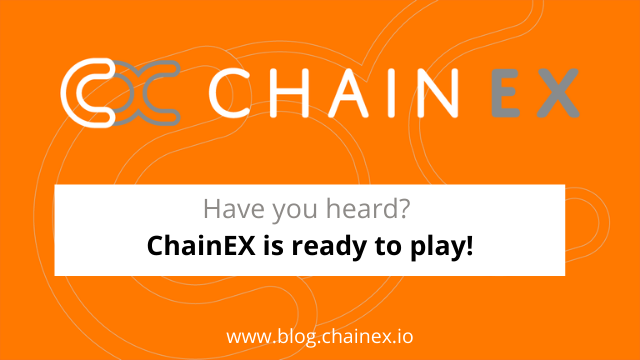 You've been asking, and we've been listening. Ladies and gentlemen, our Android app is in open beta and is ready to be used by you as our traders!
Yes, ChainEX is finally on Google play! What does this mean for you? Well, simply put: the online platform you're used to using is now mobile and being upgraded daily😃 all functionality is now packaged in our free mobile app, ready to go and be carried around by you wherever you go 😆
What's so special about it?
For starters, have you seen the user experience? Have you seen how easy and simple it is to navigate? Plus, the team spent months working on it 😅
With so many wallets on offer at ChainEX, depositing, withdrawing, buying, selling & trading cryptocurrencies just got easier. Our quick buy & sell feature offers you a simple, convenient, and faster way to trade on the move. You could even say instantly!
Don't get us started on our wallets… We offer free wallets for each of our coins! You don't trade? No problem! Transact using our wallets! Send and receive coins from any wallet and make secure withdrawals within the app! 😄
Is it safe?
ChainEX makes your security our utmost priority. Your digital assets are safely held in hot and cold storage. Your account is secured with 2FA (2-Factor Authentication). Plus we have a simple KYC & verification process when you sign up 😄 Your data and information are encrypted. What more do you need?
Our app will remain in beta until we've added all the features to improve your trading experience. We can't wait for you to start using our android app and get it market ready! Your input matters. Please let us know your thoughts, comments, and findings by submitting them to us through our support portal here.
So what's next?
Now? Well, now you register for ChainEX & download the app! Invite a friend to ChainEX and earn more rewards! Plus you'll be partnering with what could potentially be the best cryptocurrency exchange in South Africa. I mean, EVERYONE is talking about ChainEX.
ChainEX is a South African digital asset exchange that provides a platform for South Africans to buy, sell, or trade a variety of different digital assets using the South African rand as the default fiat-buying currency.
ChainEX provides you with a secure, online platform from which you can purchase and trade with different digital assets. But you know this already :)
Get to know ChainEX
Download your app | Who is ChainEX? | FAQ's | Sign Up | Follow Us |ChainEX Markets | ChainEX Security | YouTube | More friends, more crypto
Disclaimer:
All content and topics covered are mere opinions and do not constitute investment advice. Trading and investing in Bitcoin carries a high level of risk. We do not assume any responsibility for actions taken upon reading any of our articles. ChainEX is not a financial advisory firm, nor are we an investment manager.