How to buy Altcoins using ChainEX in South Africa
Have you ever wondered what Altcoins are, where, and how to buy them? We've answered all your questions!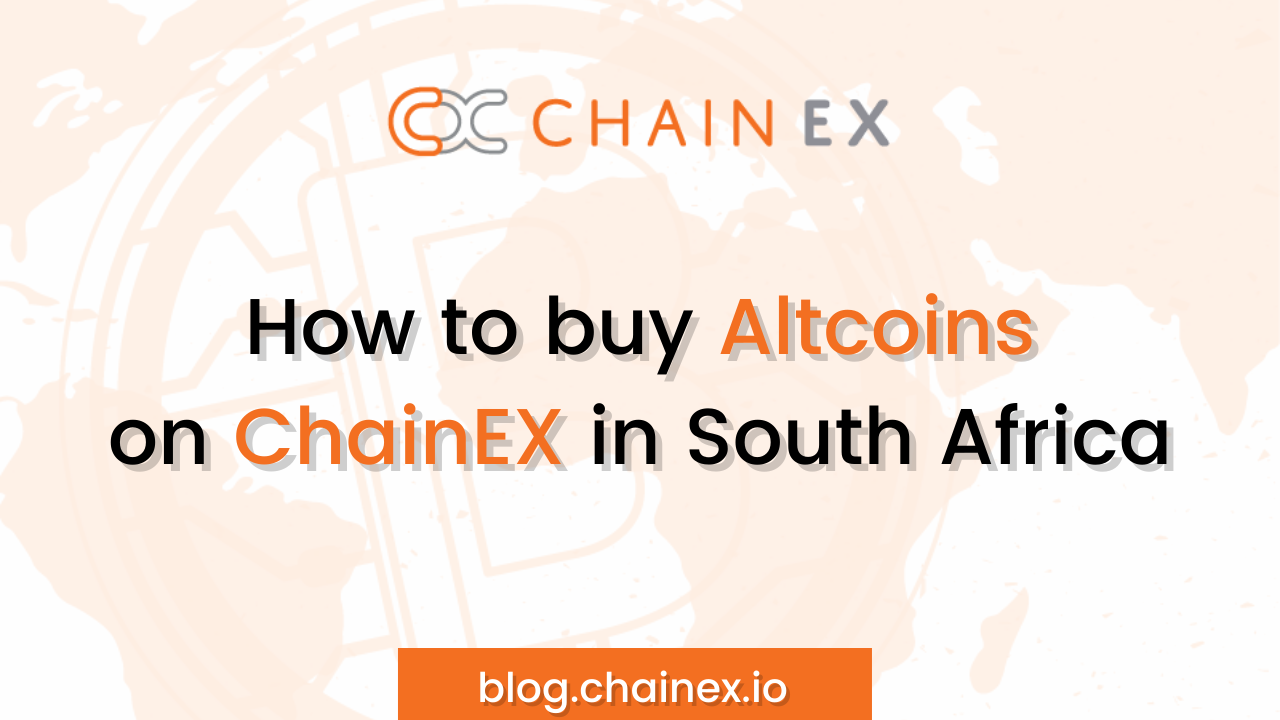 Bitcoin's market cap— the total theoretical value of all Bitcoins — is higher than the stock valuation of Walt Disney and Mastercard put together. But, the world's oldest cryptocurrency isn't the only one giving traditional stocks competition.
Ethereum, Cardano, Ripple and others have all surged in popularity since their inception. Every such altcoin is large enough to be valued in billions of dollars — each valuable enough to be a unicorn company in their own right on a traditional stock exchange.
The best part? Most of the coins mentioned in this article are available on ChainEX for you to securely buy, sell and trade! No matter what country you're in.
Altcoins: What are they?
Altcoins are cryptocurrencies other than Bitcoin. They share characteristics with Bitcoin but are also different from it in other ways. For example, some altcoins use a different consensus mechanism to produce blocks or validate transactions. Or, they distinguish themselves from Bitcoin by providing new or additional capabilities, such as smart contracts or low-price volatility.
As of August 2021, there were almost 11,392 cryptocurrencies. According to CoinMarketCap, altcoins accounted for over 43.9% of the total cryptocurrency market. Because they are derived from Bitcoin, altcoin price movements tend to mimic Bitcoin's trajectory. In some cases they can even outperform Bitcoin, sometimes gaining significant percentages in a short period of time. The opposite is also possible, so trade with caution and make sure to do your own research before buying any alternative crypto currencies other than Bitcoin.
Fun fact: Ethereum was one of the largest altcoins by market capitalization as of March 2021 & August 2021.
Where and how can you buy altcoins in South Africa?
You can buy altcoins in South Africa by using ChainEX as your most secure cryptocurrency exchange. Whether or not you reside in South Africa, you can buy altcoins on ChainEX using ZAR. Here's a tutorial on how to buy altcoins in South Africa using ChainEX, the best cryptocurrency exchange:
What are the best altcoins to buy in 2021?
With all the social media and internet hype around certain coins, you've probably wondered if they're worth it. Well, are they? We encourage you to do your own research and have a look at our coin info page. Analysts however, predict that these are some of the best altcoins to buy in 2021:
Should you buy altcoins?
"Altcoins offer an opportunity in that they have a much higher upside in terms of percentage gain" - Ben Weiss
While Bitcoin's high volatility, transaction times, and fees can cause a barrier for many traders not eager to risk spending more than they need to for small purchases and trades, altcoins can provide cheaper and faster transactions.
Instant trade feature has been released!
We've released our instant trading on deposits feature! This setting allows you to set up a deposit on a specific wallet / coin to BUY or SELL using market orders when the deposit clears!
Are you ready to start trading?
There's more than one way to earn with ChainEX!
Invite a friend to ChainEX and earn more free cryptocurrencies! Plus you'll be partnering with what could potentially be the best cryptocurrency exchange in South Africa. I mean, EVERYONE is talking about ChainEX.
ChainEX is a South African cryptocurrency exchange that provides a platform for South Africans to buy, sell, or trade Bitcoin, Ethereum and a variety of other different cryptocurrencies using the South African rand as the default fiat-buying currency. And also the first South African crypto exchange to list Bitcoin Vault, YFI, SUSHI, LINK & UNI! The South African crypto market is growing by the day!
ChainEX provides you with a secure, online platform from which you can purchase and trade with different cryptocurrencies. But you know this already 😄
Get to know ChainEX
Download your app | Who is ChainEX? | FAQ's | Sign Up | Follow Us |ChainEX Markets | ChainEX Security | |More friends, more crypto
Disclaimer:
There is no such thing as a 100% safe investment, and each decision has its risks. In any case, it is up to you to decide. All content and topics covered are mere opinions and do not constitute investment advice. Trading and investing in Bitcoin or any cryptocurrency carries a high level of risk. We do not assume any responsibility for actions taken upon reading any of our articles. ChainEX is not a financial advisory firm, investment manager, or financial consultant.