How to use the Instant Trade on Deposit Feature on ChainEX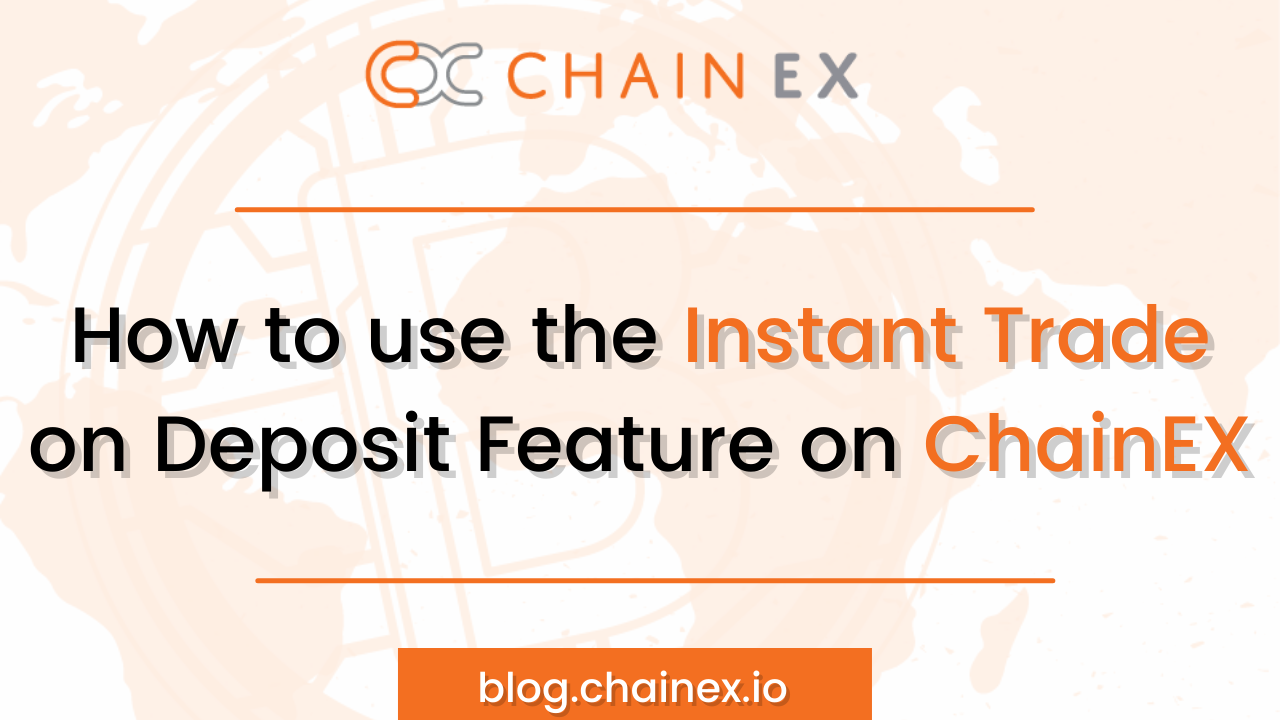 How many times have you made a deposit based on analysis, wished and impatiently hoped you could enter the trade immediately? Waiting on your deposit to reflect in your ChainEX wallet, but when it finally does reflect, you've forgotten all about your trade.
That hassle is over. This new ChainEX feature will allow you to set up the ability for a deposit on a specific wallet to BUY or SELL using market orders when your deposit clears.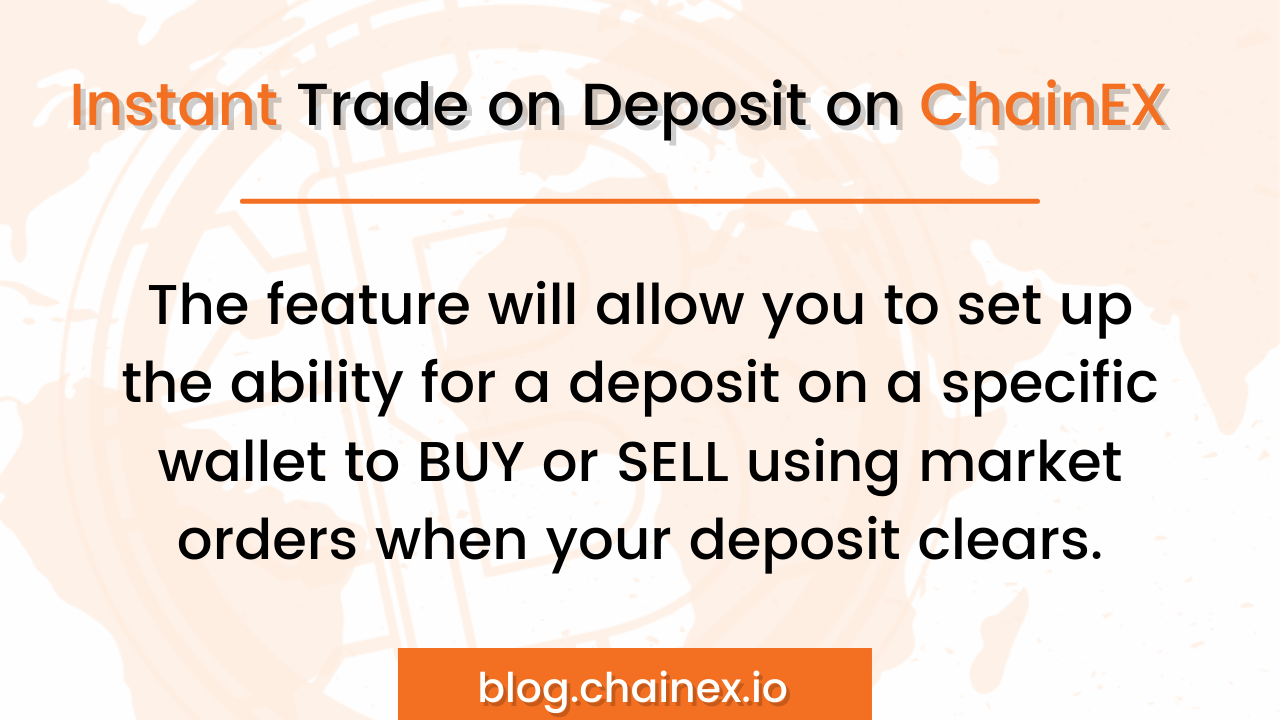 How does it work?
This functionality can be set and defined on the deposit page of each coin. You can define whether deposits will automatically trade and how they will trade. The feature allows you to repeatedly buy assets, you can set up a schedule where your chosen cryptocurrency is automatically purchased for you at regular intervals. For instance, you may want to buy ZAR 1,000 worth of Bitcoin or Ethereum on the first day of every month. This would be a great way for you to start dollar-cost averaging, an automated investing strategy.
This is what the section looks like in the case of setting up an instant trade to buy Bitcoin from the ZAR wallet: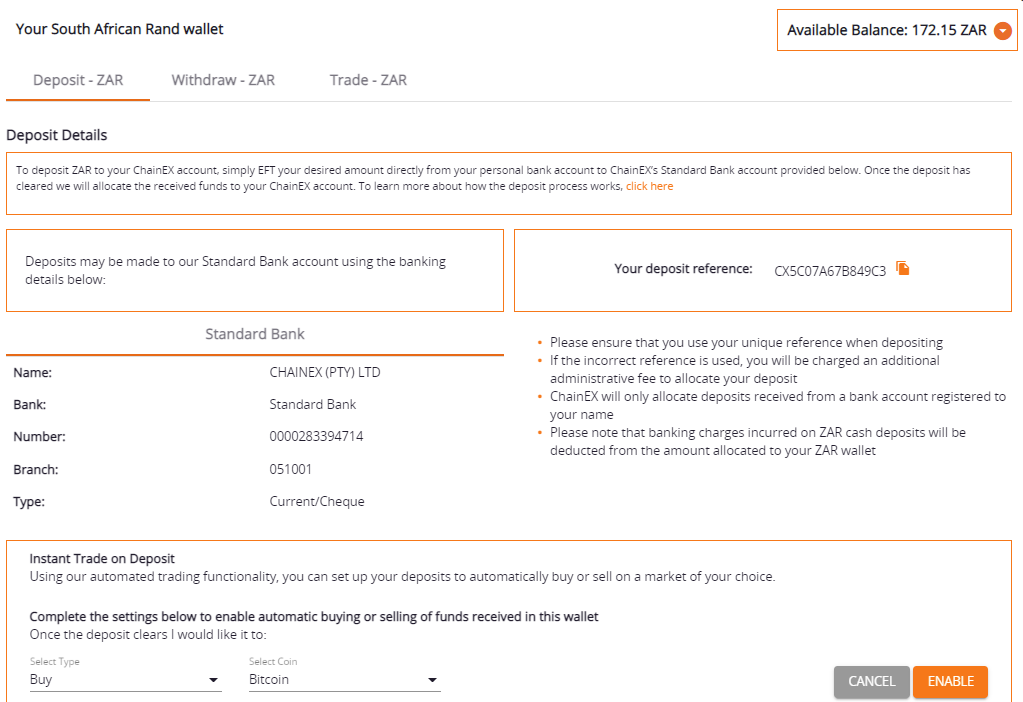 Once you've selected the "enable instant trade" button, you'll be presented with an option to buy and sell, along with the relevant markets available for that particular coin. Once you have specified your setting for the automated trade and decided whether you would like to buy or sell and against which market, a confirmation popup will be displayed to you. You will need to agree to this before the feature is enabled for you.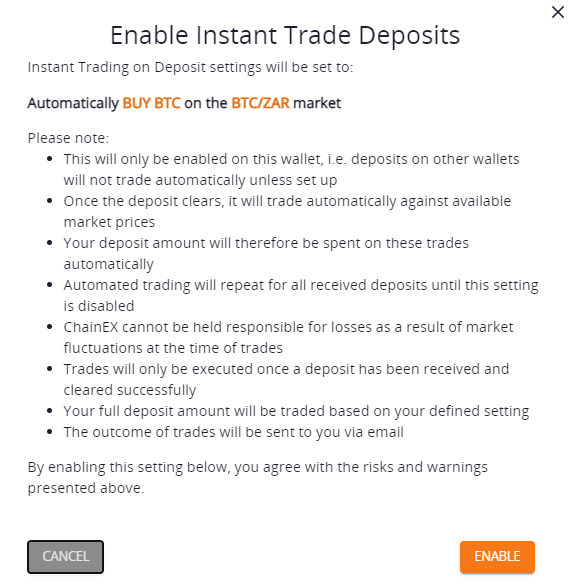 How do you disable instant trades on ChainEX?
If you have already enabled automated trading for a coin, when you visit the deposit section of that coin, you'll come across a confirmation message with a button giving you the option to disable the feature.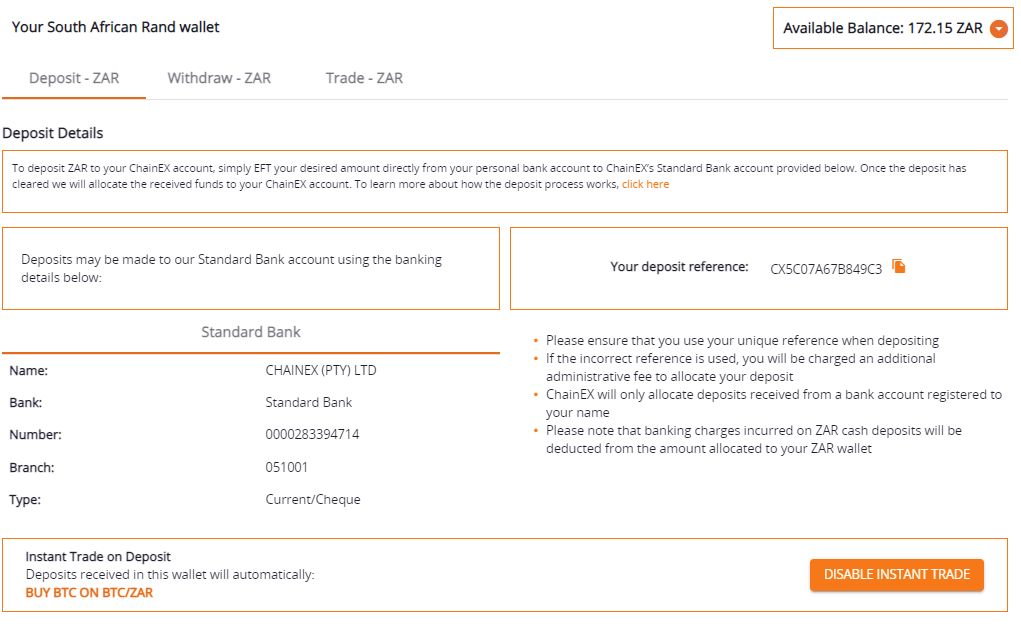 What happens when a trade successfully gets executed?
The allocated deposit will be used to place a market order for the action (buy or sell) and market you specified. The full amount of the deposit will be traded and you will receive an automated email with the details of the executed trade
What happens if a trade fails to execute?
A number of checks need to happen before the trade is executed to ensure that it will be a success and be placed on the order book. The platform will automatically perform the following checks against your trade:
1. Are there enough orders available on the order book to cover the deposit amount? We will not allow partial trades of the deposited amount. For example, if the full amount can't be used to buy, the order will fail & we will not buy the amount that is available.
2. For buy orders: The net total of your order should be higher than R1 (ZAR Markets) or 0.0001 on all other markets.
3. For sell orders: The total of your order should be higher than R1 (ZAR Markets) or 0.0001 on all other markets.
If any of these checks fail, the automated trade will not be placed and you will receive an email notifying you of this.
What are the possible reasons a trade could fail?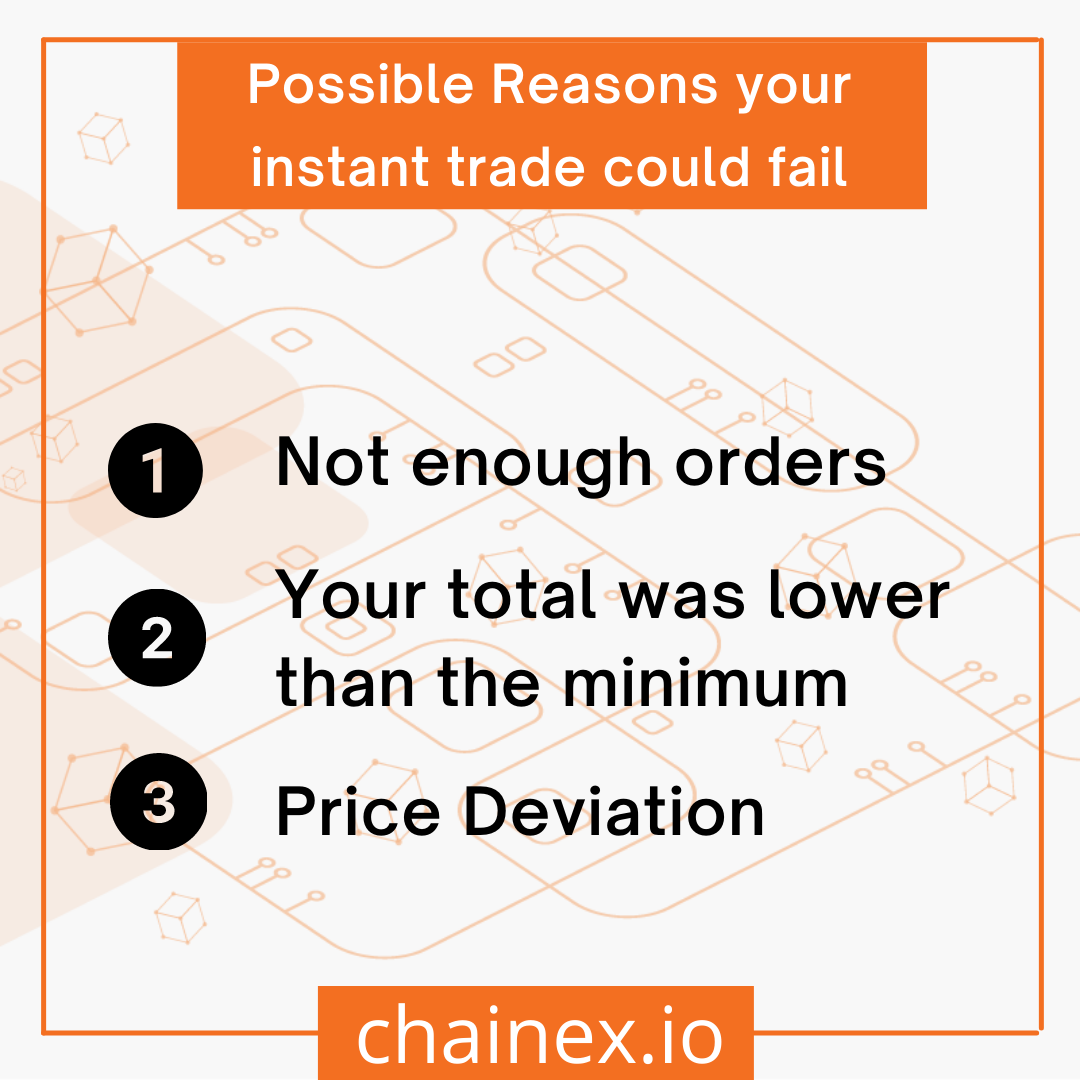 Not enough orders: There was not enough demand on the market to trade the deposited amount at the time of the deposit.
Your total was lower than the minimum: Deposit amount was lower than the minimum single trade amount.
Price deviation: To protect your funds, the trade was canceled due to abnormal price fluctuations on the market at the time of the deposit.
Please note: If the trade fails, your deposit will still be allocated and you can still manually place orders with it.
Are you ready to start trading?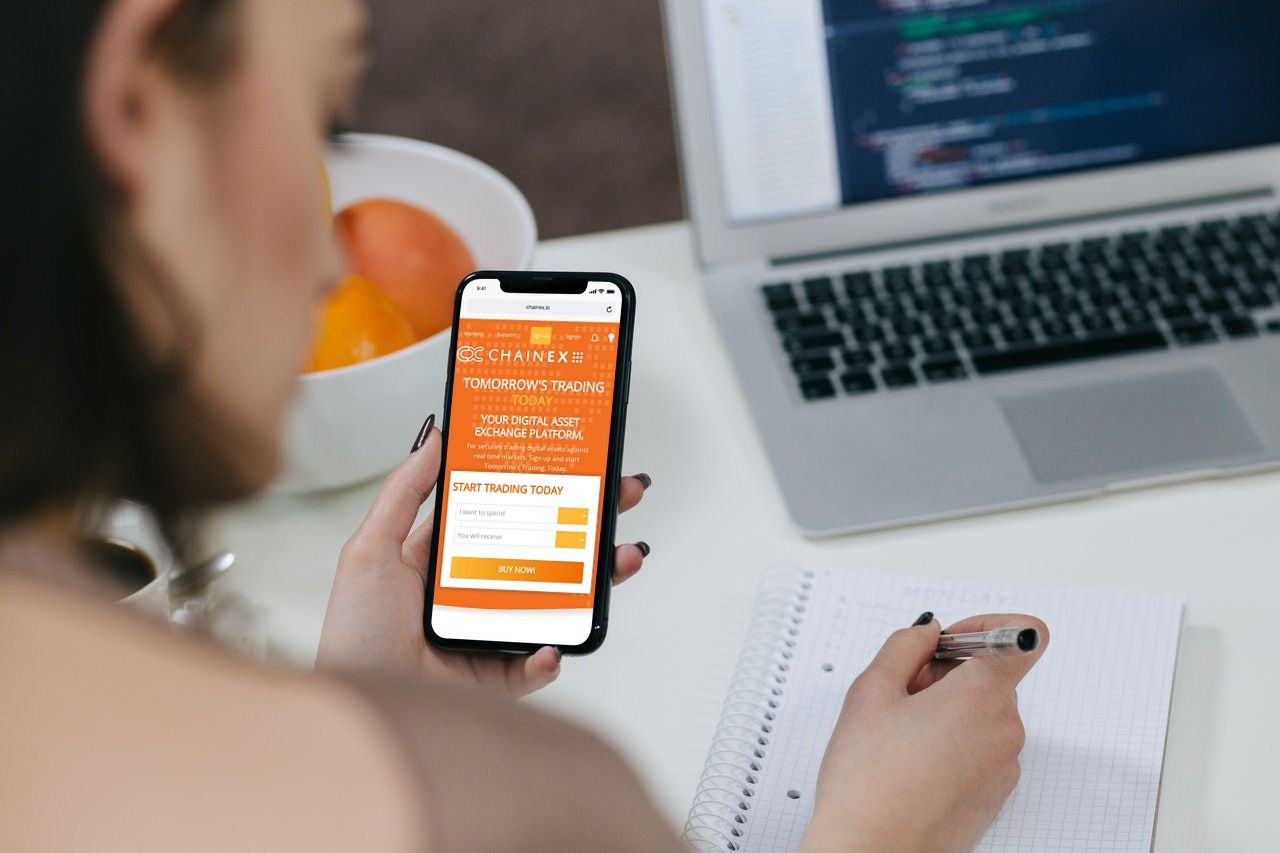 There's more than one way to earn with ChainEX!
Invite a friend to ChainEX and earn more rewards! Plus you'll be partnering with what could potentially be the best cryptocurrency exchange in South Africa. I mean,