ChainEX order types: How to use them & how they work
At ChainEX we have multiple order types that suit almost any type of trader. Learn more about ChainEX order types from a South African crypto exchange!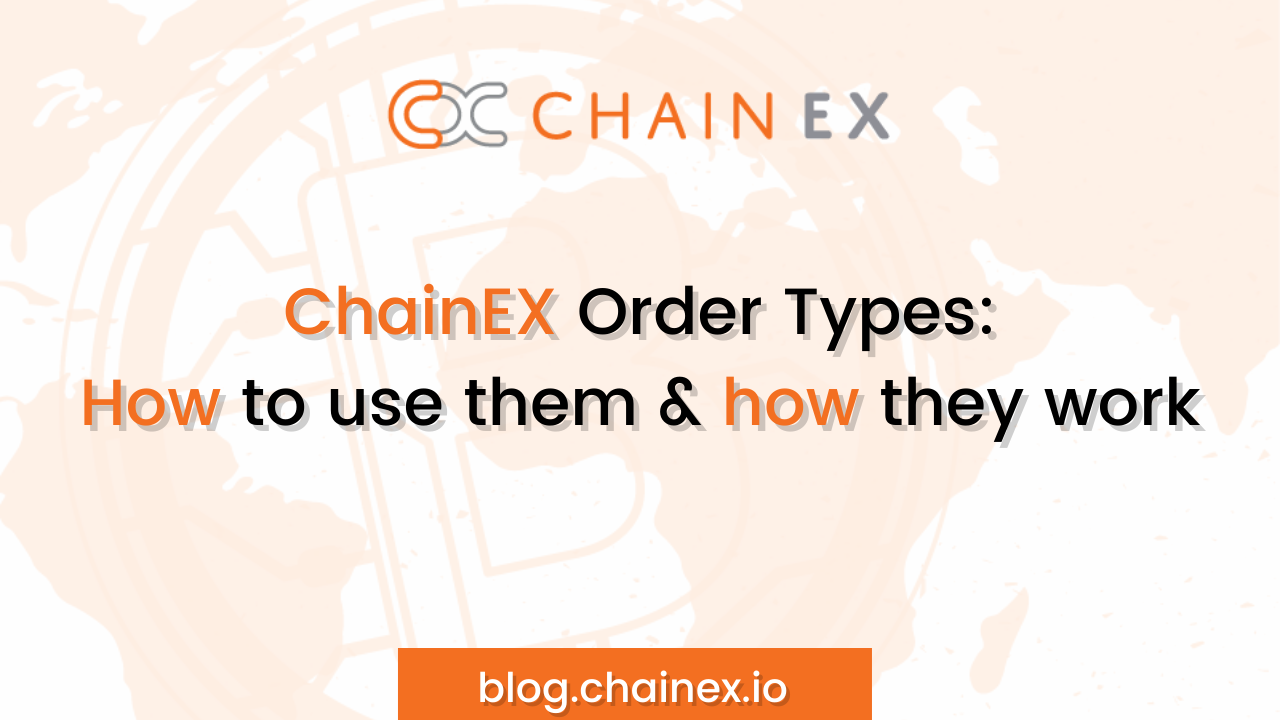 There are normally four common types of orders when it comes to trading. These include but are not limited to a market order, limit order, stop order, and stop-limit order. In this blog, we cover them all, how they work and what types are available for you to use on ChainEX!

Market Orders
A market order means that you as a trader will buy or sell an asset like Bitcoin or Ethereum on ChainEX at the market price. The market price is determined as the best available price for the asset at the time the order is placed. You cannot place restrictions on the execution of a market order. Because prices change, the total and fee are estimated instead of true values.

Placing a market order is useful when you want to trade immediately and not have to wait for an order in the order book to match your specified limit price as you will trade against the orders in the order book created by other willing buyers and sellers. When placing a market order, you will only need to specify the amount that you wish to Buy/Sell, the prices and net totals will be determined as the market order is executed based on available orders on a market.

Here's how to place an order on ChainEX:
Prefer reading instead of watching a video? Here's our knowledge base!
Limit Order
A limit order to buy is at the limit or lower price that a trader has decided to buy. A limit order to sell would be at the limit or higher price that a trader has decided to buy. When you execute a limit order an amount of your funds is reserved in your account. This does not guarantee that the order will be executed. Limit orders are shown in the order book.

People normally confuse limit orders and market orders. Market orders are the most basic buy and sell trades. Limit orders give greater control to you as the investor. A limit order allows you to set a maximum acceptable purchase price amount or a minimum acceptable sales price while placing an order. The order will be processed only if your asset hits that price.
Limit orders are commonly used by professional traders and day traders who may be making a profit by buying and selling high volumes of crypto very quickly in order to exploit tiny changes in their prices. Here's how to use limit orders.

Quick buy & sell
Quick Buy and Sell allows you to instantly buy or sell cryptocurrencies and is the easiest way to buy and sell crypto on ChainEX. Why should you use quick buy & sell? You don't have to understand any of the intricacies of crypto markets. You simply select what you would like to buy or sell and what you would like to pay with or receive.

Performing a trade using Quick buy and sell is as simple as entering the amount you wish to buy or sell after which ChainEX will automatically perform a purchase or sale against current market prices.

The ChainEX feature provides instant execution. Prices are immediately matched, allowing you the chance to execute orders faster. Here's how it works.
Stop & Stop Limit Orders
Stop/Stop Limit orders are designed to allow you as a ChainEX user to automatically place orders on days where the market is erratic. With Limit Orders, you specify the price at which you are willing to buy or sell. Although the price is guaranteed, it's not guaranteed that the order will be filled.
A stop order means you execute a trade at a specific price. This differs from the limit order because once the stop price is reached, a stop order turns into a market order. Stop orders do not reserve funds and do not appear in order books before they are activated.

A stop-limit order means a limit order is created at a specific price. Once the stop price is reached, it turns into a limit order. This requires a stop price and a limit price to be specified. Stop limit orders do not reserve funds and do not appear in order books before they are activated.

When placing a Stop/Stop Limit order, you will need to select/enter all the required/desired information below, in order for your order to be fulfilled:

Amount - This is the amount of cryptocurrency you want to buy or sell.
Stop - This is the triggered amount that will cause the market order to be placed. The Stop is used to trigger either a buy/sell order in your specific market when that specific market either drops or rises to the Stop price.
Stop Limit - This will cause your Limit Order to be placed at the selected Limit amount.
Apply Limit - If you would like to place a Stop Limit order, all you need to do is select Apply Limit.
Price - When placing a Stop order, the price will be displayed as "Market", as you will pay the Market price for your order. When placing a Stop Limit Order, this will be your desired price that your Limit order will be placed at.

What about automated trading?
Okay, let's say you're a user that doesn't necessarily want to trade, analyze charts and spend time on a strategy. You're someone who just wants to buy, hold and accumulate your crypto. Or you're just someone who simply wants to own crypto without any hassle. ChainEX makes it easy for you with the instant trade on deposit feature.
Instant Trade on Deposit - How does it work?
This ChainEX feature will allow you to set up the ability for a deposit on a specific wallet to BUY or SELL using market orders when your deposit clears. This functionality can be set and defined on the deposit page of each coin.

You can define whether deposits will automatically trade and how they will trade. It's a matter of doing your research on your favourite coin and deciding how much of it you'd like to buy once your deposit clears. Learn more.
What are you waiting for?
Now you've learned about different order types available on ChainEX. So what's next? Learn more about your favourite cryptocurrency, study it and understand how and why it moves. Our analysis, pattern trading & price action, and dollar-cost averaging blogs should help you understand the basics behind trading and how you can get started.
Invite a friend to ChainEX and earn more free cryptocurrencies! Plus you'll be partnering with what could potentially be the best cryptocurrency exchange in South Africa. I mean, EVERYONE is talking about ChainEX.
ChainEX is a South African cryptocurrency exchange that provides a platform for South Africans to buy, sell, or trade Bitcoin, Ethereum and a variety of other different cryptocurrencies using the South African rand as the default fiat-buying currency. And also the first South African crypto exchange to list Bitcoin Vault, YFI, SUSHI, LINK & UNI! The South African crypto market is growing by the day!
ChainEX provides you with a secure, online platform from which you can purchase and trade with different cryptocurrencies.
Get to know ChainEX
Download your app | Who is ChainEX? | FAQ's | Sign Up | Follow Us |ChainEX Markets | ChainEX Security | |More friends, more crypto
Disclaimer:
There is no such thing as a 100% safe investment, and each decision has its risks. In any case, it is up to you to decide. All content and topics covered are mere opinions and do not constitute investment advice. Trading and investing in Bitcoin or any cryptocurrency carries a high level of risk. We do not assume any responsibility for actions taken upon reading any of our articles. ChainEX is not a financial advisory firm, investment manager, or financial consultant.