What is 2FA? Is it really important?
What is 2FA? Is it important? Do you need it? Yes, yes you need it. Find out why.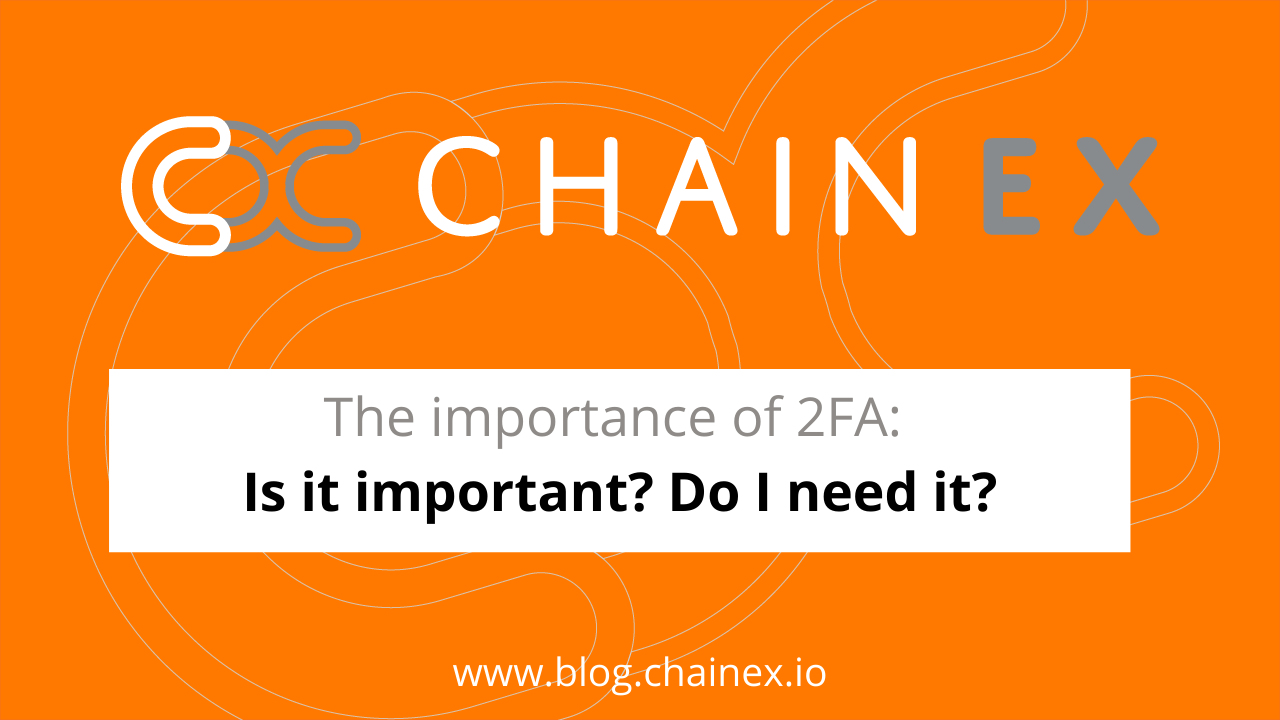 Yes, yes it is very important 😃 You've probably come across the term a lot. Even on ChainEX. It's for your own good, really. 2 Factor Authentication (2FA) is a really important security feature to keep you and your funds safe.
Is my password not good enough? 😕
It is. But not really 😅 Your ChainEX password is probably the same as your email, Facebook, and Twitter accounts, right? 😆 That's okay. You're human, you forget things. But to keep you safe at ChainEX, enabling your 2FA is mandatory.
Before addressing the question 'what is two-factor authentication' or 'what is 2FA,' let's consider why it's important to do everything you can to improve your account security.
With so much of our lives happening on mobile devices and laptops, it's no wonder our digital accounts have become a magnet for criminals. Malicious attacks against any and everyone are more and more common.
So what is 2FA? How will it protect me?
2FA is an extra layer of security used to make sure that when trying to gain access to your ChainEX account, you are who you say you are. First, you will enter your username and password. Then, instead of immediately gaining access, you will be required to provide another piece of information. In this case, a code generated by your 2FA app.
With 2FA, a potential compromise of just one of these factors won't unlock the account. So, even if your password is stolen or your phone is lost, the chances of someone else having your second-factor information is highly unlikely 😄.
How do I use 2FA?
You'll need to download and create an account on a 2FA app like Google Authenticator or Authy. The list is endless. Thereafter you'll need to link your ChainEX account to the 2FA app. Don't worry, it's easy 😃 Here's how:
At Chainex we use time-based one-time passwords, which means the time on your cellphone or two-factor device has to be in sync with the time servers. This is one of the biggest reasons most traders fail to log in or authenticate.
If you lose your two-factor authentication device, you have to go through a special authentication procedure with the ChainEX support desk, so it's very important to write down and keep the key in a safe place 😃
So what's next?
Now? Well, now you log in to your ChainEX account, and enable your 2FA! Invite a friend to ChainEX and earn more rewards! Plus you'll be partnering with what could potentially be the best cryptocurrency exchange in South Africa. I mean, EVERYONE is talking about ChainEX.
ChainEX is a South African digital asset exchange that provides a platform for South Africans to buy, sell, or trade a variety of different digital assets using the South African rand as the default fiat-buying currency.
ChainEX provides you with a secure, online platform from which you can purchase and trade with different digital assets. But you know this already 😄
Get to know ChainEX
Enable 2FA| Download your app | Who is ChainEX? | FAQ's | Sign Up | Follow Us |ChainEX Markets | ChainEX Security | More friends, more crypto
Disclaimer:
There is no such thing as a 100% safe investment, and each decision has its risks. In any case, it is up to you to decide. All content and topics covered are mere opinions and do not constitute investment advice. Trading and investing in Bitcoin or any cryptocurrency carries a high level of risk. We do not assume any responsibility for actions taken upon reading any of our articles. ChainEX is not a financial advisory firm, investment manager, or financial consultant.