10 000 reasons to refer your friends!
With R10 000 worth of reasons to refer your friends, what's stopping you?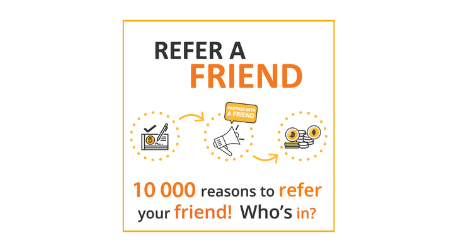 What if we told you that all your friends and everyone you know could be the reason you win a competition? Well, that's exactly what we're telling you! Ladies and gentlemen, ANOTHER competition! Starting on the 8th of March 2021, and ending on 11 April!
Let's talk terms & figures
With R10 000 up for grabs and only fifteen traders to share it, what makes you stand out? Easy. The number of people you bring to ChainEX between 8 March 2021 - 11 April 2021😄 The total giveaway of R10 000 will be split amongst the top fifteen traders as follows:
1 - R2000
2 - R1500
3 - R1250
4 - 1000
5 - 850
6 - 700
7 - 550
8 - 450
9 - 400
10 - 350
11 - 300
12 - 250
13 - 200
14 - 100
15 - 100
How do I qualify?
First of all, you need to know and understand how our referral program works. We've made it easy for you by writing an article on it 😃
In order to qualify for the competition, you'll need to refer your friends to ChainEX at the start of the competition.
Once your friends have signed up, they'll need to complete level 1 verification. Don't know how? Don't worry, there's a video on that 😉
They're verified? Great! Now you'll need to help them make a deposit and perform their first trade! Once all these boxes have been checked, you're eligible for the prize!
Here's how to make a deposit on ChainEX:
Are you in 1st place?
You've referred a lot of people, haven't you? I mean why wouldn't you? ChainEX is the best crypto exchange in South Africa! We have a live leaderboard that you can keep an eye on to see who's in 1st position! Have a look!
So what's next?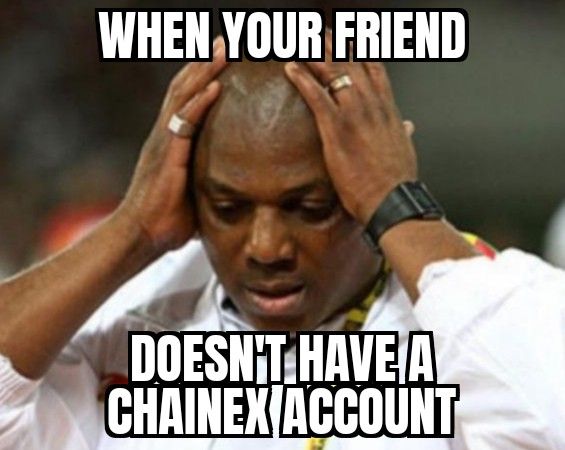 If you're not signed up to ChainEX, get to it! Plus you'll be partnering with what could potentially be the best cryptocurrency exchange in South Africa. I mean, EVERYONE is talking about ChainEX.
I mean, you're here because you want to own some crypto. So here's how:
ChainEX is a South African digital asset exchange that provides a platform for South Africans to buy, sell, or trade a variety of different digital assets using the South African rand as the default fiat-buying currency.
ChainEX provides you with a secure, online platform from which you can purchase and trade with different digital assets. But you know this already :)
It pays to have friends. Literally.
Not only do we provide a platform for you to trade, but we also reward you for the people you refer!
We not only want you to succeed at ChainEX, but we also want you to impact those around you and potentially build your own crypto trading business, we've built the platform to allow you to invite and refer your friends and family to the platform and earn when they trade! For a complete guide on how the system works, read our article on it?
Get to know ChainEX
Who is ChainEX? | FAQ's | Sign Up | Follow Us |ChainEX Markets | ChainEX Security | YouTube | More friends, more crypto
Disclaimer:
All content and topics covered are mere opinions and do not constitute investment advice. Trading and investing in Bitcoin carries a high level of risk. We do not assume any responsibility for actions taken upon reading any of our articles. ChainEX is not a financial advisory firm, nor are we an investment manager.