More coins, more profits! ChainEX just listed LINK & UNISWAP!
With more than 20 tradeable assets, 4 more wouldn't hurt, right?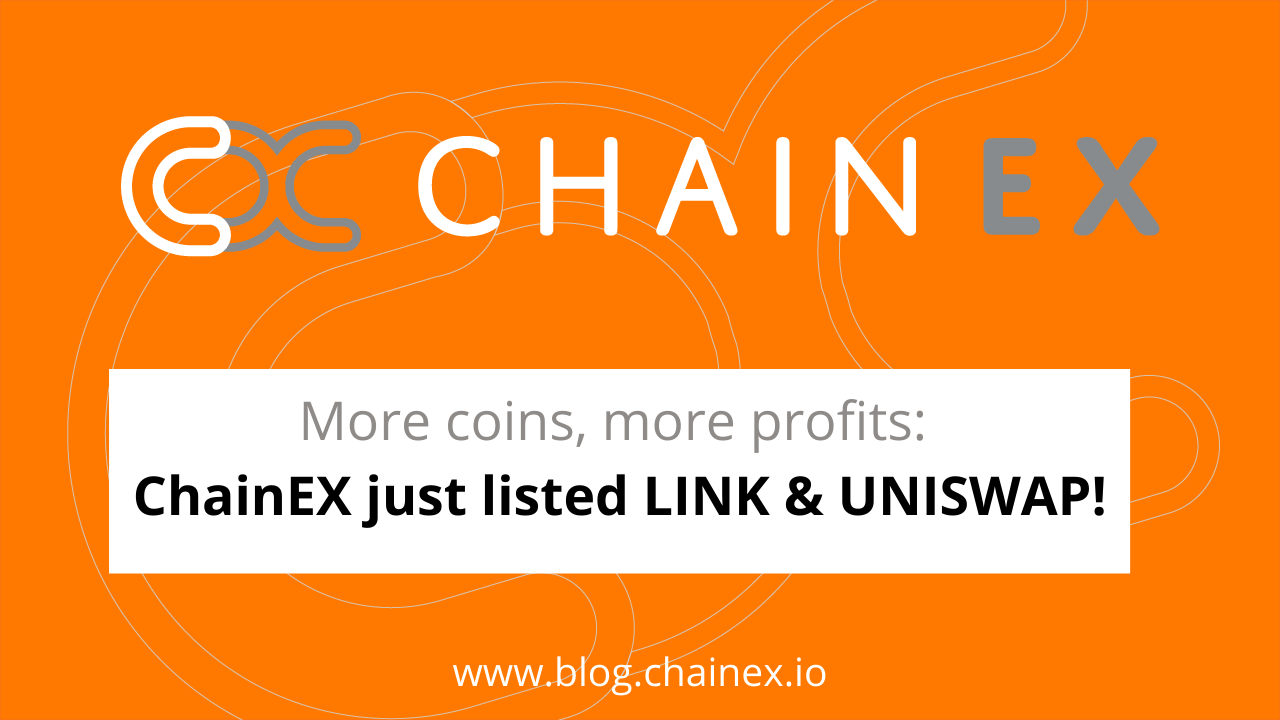 With more than 20 tradeable assets at ChainEX, 4 more wouldn't hurt, right? As such, we've added 2 more assets for you to increase your portfolio! And 2 more are coming soon!
What coins were added to ChainEX?
2 coins were added and listed on ChainEX. These include LINK and UNI.
What is LINK? Should I buy it?
LINK is a cryptocurrency that powers the Chainlink protocol. The LINK Network is a fully decentralized Oracle network that provides smart contracts to enable the sending of payments from the contract to bank accounts and payment networks.
Should you buy Chainlink (LINK)? This makes perfect sense when you realize that this cryptocurrency, which was not even in the top 100 cryptocurrencies by market capitalization in mid-2018, was ranked 5th with a market cap of almost $ 5 billion in November 2020!
What's UNISWAP?
"UNI is a token that returns profits from actual business" — UNI COIN. UNI COIN is a Cryptocurrency that is issued for the purpose of protecting investors. This is done in cooperation among different crypto issuers, by joint market-making and supporting the value of each token. Have a look at their whitepaper for more details.
Facts & Figures
YFI started 2021 with a total trading volume of $325.96m, at this time of writing (21 January 2021), it sits at $372m!
ChainEX is the only and first South African crypto exchange to list UNI and will be the first to list YFI & SUSHI. Cool, right? 😀
SUSHI ended the year on a high. Literally. With a total trading volume of $141,353,789, less than a month later, ending 20 January 2021 with a volume of $334,141,949 😆
What about LINK? Well, with a total trading volume of $1,580,883,544 on January 20, 2021, what more reason do you need in order to buy it? 😆
Last but not least, UNI. The coin ended 2020 with a total trading volume of $521,291,034
So many reasons to add these coins to your portfolio. Which are you buying first? 😄
So what happens now?
Now? Well, now you register for ChainEX, download the app and invest in your favorite coin! Be sure to do your own market research before diving in.
Invite a friend to ChainEX and earn more rewards! Plus you'll be partnering with what could potentially be the best cryptocurrency exchange in South Africa. I mean, EVERYONE is talking about ChainEX.
ChainEX is a South African digital asset exchange that provides a platform for South Africans to buy, sell, or trade a variety of different digital assets using the South African rand as the default fiat-buying currency. And also the first South African crypto exchange to list Bitcoin Vault, YFI, SUSHI, LINK & UNI! The South African crypto market is growing by the day!
ChainEX provides you with a secure, online platform from which you can purchase and trade with different digital assets. But you know this already 😄
Get to know ChainEX
Download your app | Who is ChainEX? | FAQ's | Sign Up | Follow Us |ChainEX Markets | ChainEX Security | More friends, more crypto | Trade LINK | Trade UNI
Disclaimer:
There is no such thing as a 100% safe investment, and each decision has its risks. In any case, it is up to you to decide. All content and topics covered are mere opinions and do not constitute investment advice. Trading and investing in Bitcoin or any cryptocurrency carries a high level of risk. We do not assume any responsibility for actions taken upon reading any of our articles. ChainEX is not a financial advisory firm, investment manager, or financial consultant.