IT PAYS TO HAVE FRIENDS!

In the last few years, Bitcoin and other digital assets have captivated people across the globe. Crypto-enthusiasts attracted to the new technology have formed a sizable, growing, vibrant and diverse community. It embraces members from different walks of life, professions, and levels of tech-savviness. Much of this can be contributed to the power of referral!

At ChainEX, we understand that the one process which remains a key part of any business' success is the power of customer (or users in our case) referrals. Good word of mouth speaks volumes about the quality of a business, and a trusted referral can do a lot to grow a business — especially where traditional marketing might fall short. That's why we have our own referral programme where you can earn real crypto for referring anyone you know.
How it works: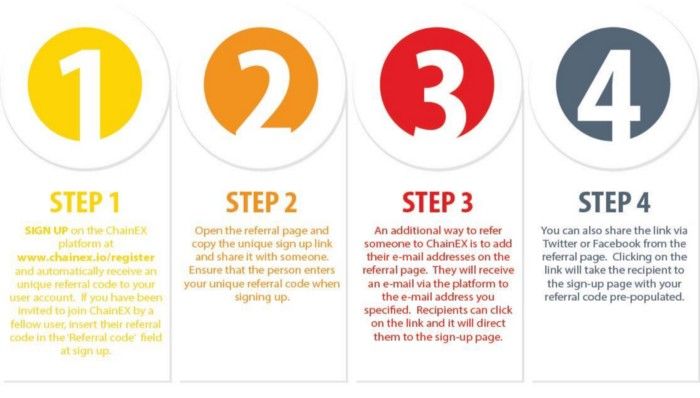 Did you share your referral link? Great! Keep the following in mind:
You will automatically qualify for referral rewards based on the trades of your referred users.
Referral rewards will be paid in the currency that a referred user's fee was paid, e.g. if a user makes an ETH/BTC trade, the fee and the rewards will be paid in BTC.
Therefore, it is possible to receive rewards in more than one currency during the referral process if trades are completed in more than one base coin.
ZAR market fees are paid in the traded, digital currency and not ZAR. You will receive your reward in the digital currency, e.g. if a trade was completed on ETH/ZAR, you will receive the reward in ETH.
The calculation of the referral rewards is an automated process that will be triggered and processed every time a referred user executes a trade.
Rewards will be deposited in your registered wallet addresses on ChainEX.
ChainEX will update you on your referral rewards via weekly referral earnings reports sent automatically to your registered e-mail address. You can also view a summary of your current and historical earnings HERE after logging into your account.

There are four levels of referral rewards. Click HERE for more details regarding these levels.
Take a look at the diagrams below for examples of the referral rewards that can be earned.