Cryptofest2020: Learn about crypto and ChainEX!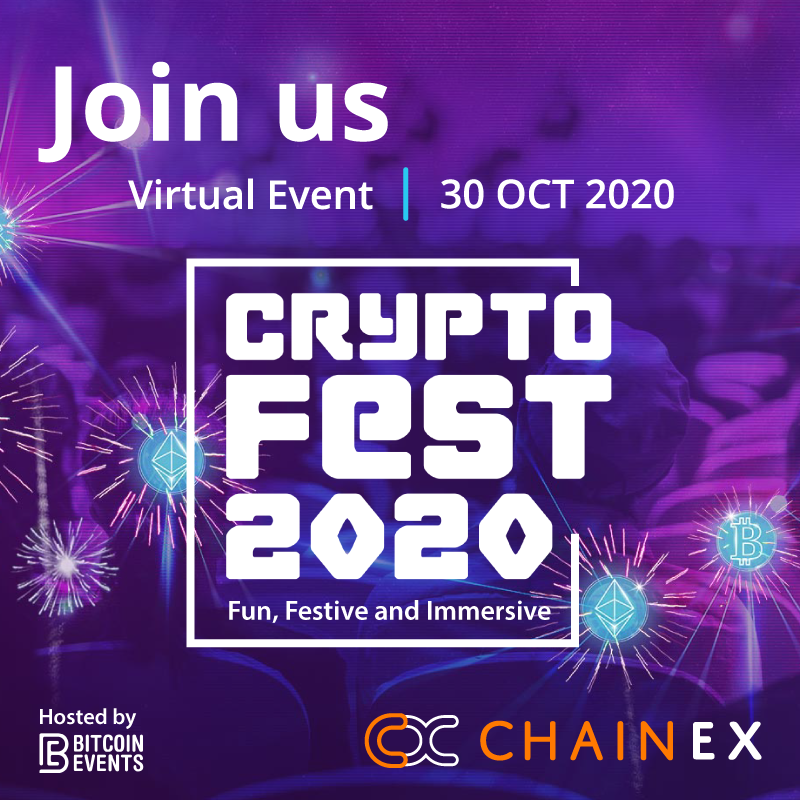 Are you ready?! Cryptofest2020 is fast-approaching! What is Cryptofest?
Crypto Fest is an exciting, fun, engaging, and casual day event with speakers giving insights into the current state of cryptocurrencies.
The whole point of the event is to accelerate the global adoption of cryptocurrencies, in a world where crypto is seen from a negative viewpoint. And also to explore the many opportunities that exist such as in trading, mining, investment, and payments.
Why should you attend?
You have questions and we have answers! ChainEX has been given the amazing opportunity to have a virtual booth at the Cryptofest! We'll be waiting with anticipation and eagerness for all your questions!
The event is the first event of its kind in South Africa and brings together game-changers, cryptocurrency exchanges, and enthusiasts from all across the globe to discuss nothing but crypto!
What can you expect?
The event will include a host of crypto enthusiasts, professionals, and traders! This is a chance to ask all your questions about ChainEX, crypto, and trading!
Here's what topics to expect:
Guess what? Those aren't the only topics that will be covered! Interested? Of course, you are! Sign up for the event on the Cryptofest website!
So what's next?
Now? Well, now you register for the event! Invite a friend to the event! And if you're not signed up to ChainEX, get to it! Plus you'll be partnering with what could potentially be the best cryptocurrency exchange in South Africa. I mean, EVERYONE is talking about ChainEX.
ChainEX is a South African digital asset exchange that provides a platform for South Africans to buy, sell, or trade a variety of different digital assets using the South African rand as the default fiat-buying currency.
ChainEX provides you with a secure, online platform from which you can purchase and trade with different digital assets. But you know this already :)
Get to know ChainEX
Who is ChainEX? | FAQ's | Sign Up | Follow Us |ChainEX Markets | ChainEX Security | YouTube | More friends, more crypto
Disclaimer:
All content and topics covered are mere opinions and do not constitute investment advice. Trading and investing in Bitcoin carries a high level of risk. We do not assume any responsibility for actions taken upon reading any of our articles. ChainEX is not a financial advisory firm, nor are we an investment manager.