ChainEX Competition Comes to an End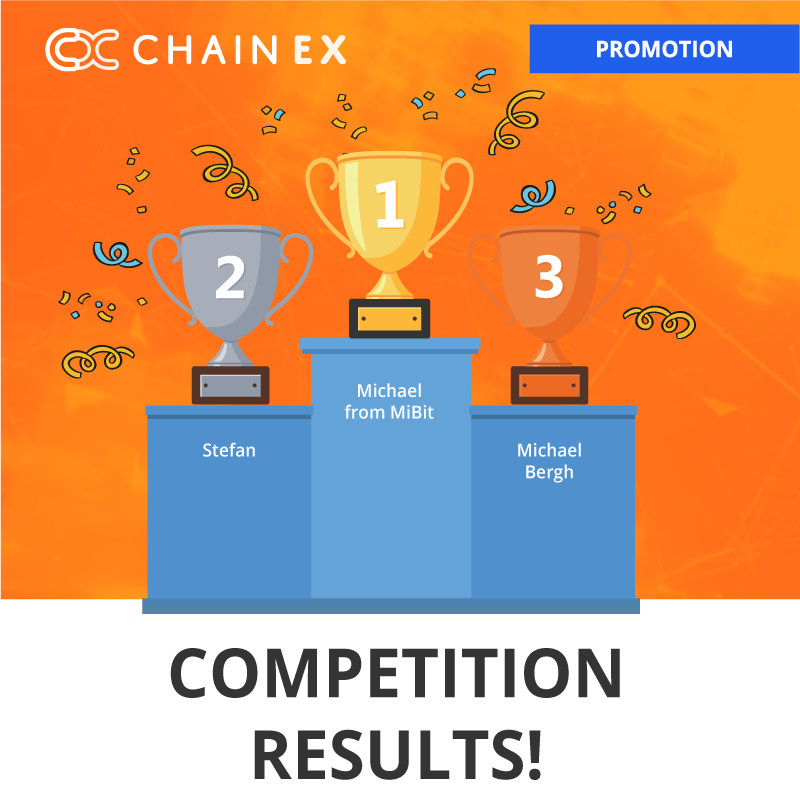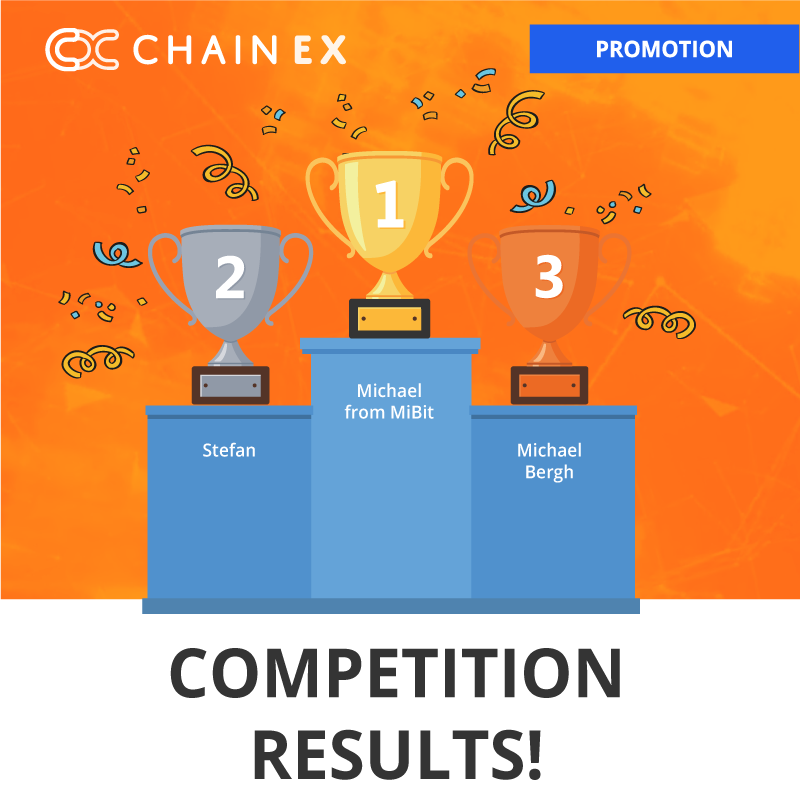 After two weeks of intense trading and a total of 15175 trades, the ChainEX competition has come to an end unfortunately ?
Fun facts
Before the competition, the ChainEX 7-day daily average was 127 traders, when the competition was announced on the 3rd of August, 141 on the day it started, and 190 by the end of the competition. 242 were the most traders in one day on the 18th of August!
It's a lot to take in, right? ? But wait, that's not it
The average volume per participant was 2.4092 BTC with a total of 15175 trades, and the average volume per trade was 0.0079383 BTC, with a total of 120.463 BTC volume for qualified participants.
Okay, that's it ?
Wait, what's volume??
The volume of trade refers to the total amount of coins traded, calculated in BTC value. It's a measure of the market's activity.
At ChainEX our fees are extremely reasonable. Now, combine the ChainEX fees with your exceptional skills as a trader, it's possible to trade a large volume with as little as R1000 (One thousand South African Rands).
And the winner is…
We had a quick chat with the ChainEX competition winner, MiBit. And this is what the trader had to say.
Keep in mind that the estimated volume traded per trader does not necessarily mean they have that specific amount of Bitcoin in their wallet. It simply means that careful skill and consideration was used when trading all eligible pairs throughout the competition in order to amount to that particular volume that was traded ?
Question: How did you feel the day the competition started? Did you think you'd win?
Michael: "I was excited and eager to go for the win!"
Question: You traded an estimated 22.86 worth of BTC! How often do you trade?
Michael: "I traded at least once a day, some days more often than others. When I saw another trader passed me I knew I had to work in a few extra hours."
Question: Was there a point you looked at the leaderboard and just knew you'd win?
Michael: "Only until the final hour, the competition was tight!"
Question: Did you trade more during the competition period, or is this your normal trading routine?
Michael: "Yes, but I really enjoyed it and will continue working trading into my daily routine."
Question: How long have you been trading with ChainEX? What's your favorite part of the exchange?
Michael: "I've been trading with ChainEx for 3 months now, my favorite part is definitely the fact that ChainEx has very little fees, their support staff is also extremely helpful and friendly."
The competition was extremely tight between 1st placed Michael of MiBit and 2nd placed Stefan, who was the leader at some stage, until the dying moments of the competition! Third-placed Michael Bergh who traded an estimated volume of just under 10BTC finished in third place!
It's all about you!
ChainEX is a South African exchange that is always looking to improve for you. The more you trade, the more liquid the South African crypto exchange becomes!
So what happens now? I mean, the competition is over. Now, now you trade ? The competition might be over, but you can still earn rewards by referring your friends and family! Keep an eye out for the next competition on https://chainex.io/competition
What are you waiting for? ?
If you're not signed up to ChainEX, get to it! Plus you'll be partnering with what could potentially be the best cryptocurrency exchange in South Africa. I mean, EVERYONE is talking about ChainEX.
ChainEX is a South African digital asset exchange that provides a platform for South Africans to buy, sell, or trade a variety of different digital assets using the South African rand as the default fiat-buying currency.
ChainEX provides you with a secure, online platform from which you can purchase and trade with different digital assets. But you know this already ?
It pays to have friends. Literally ?
Not only do we provide a platform for you to trade, but we also reward you for the people you refer!
We not only want you to succeed at ChainEX, but we also want you to impact those around you and potentially build your own crypto trading business, we've built the platform to allow you to invite and refer your friends and family to the platform and earn when they trade! For a complete guide on how the system works, read our article on it. ?
Get to know ChainEX
Who is ChainEX? | FAQ's | Sign Up | Facebook | Instagram | What is Bitcoin? | ChainEX Markets | ChainEX Security | YouTube
Disclaimer:
All content and topics covered are mere opinions and do not constitute investment advice. Trading and investing in Bitcoin carries a high level of risk. We do not assume any responsibility for actions taken upon reading any of our articles. ChainEX is not a financial advisory firm, nor are we an investment manager.