100 BTCV, 70 winners. Are you one of them?;
The ChainEX Bitcoin Vault competition has come to an end, with 70 winners taking the prize!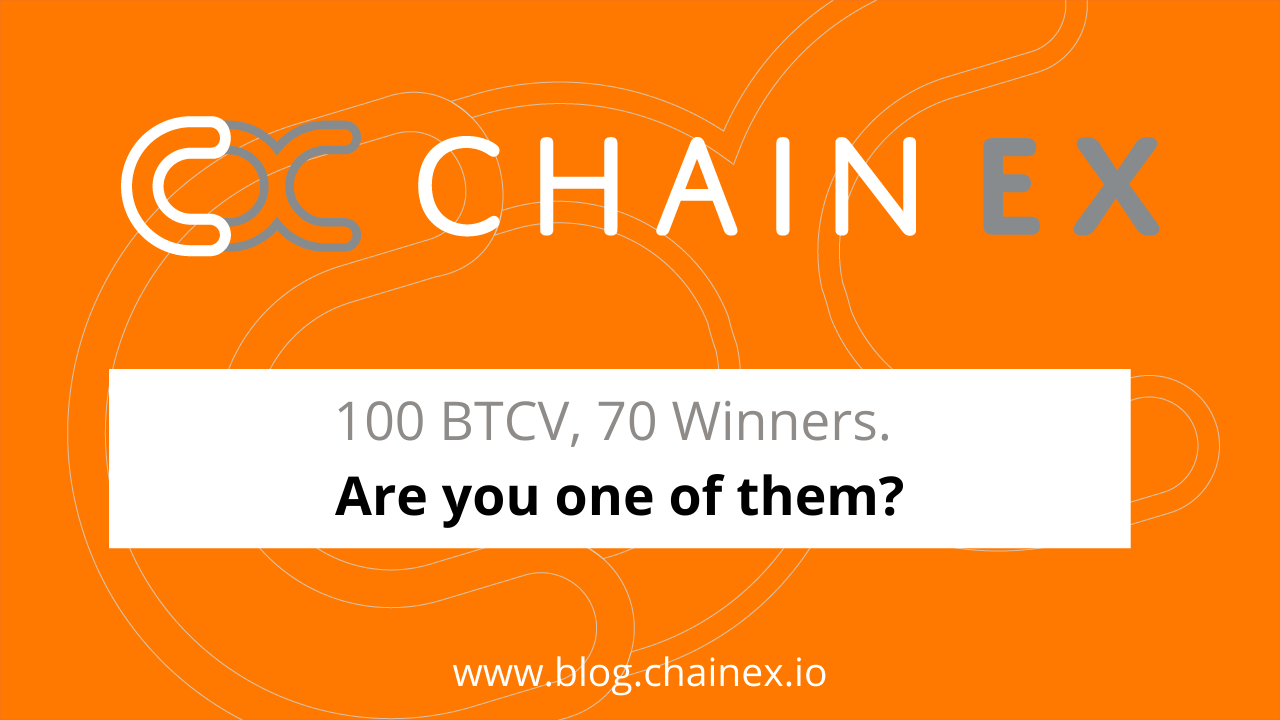 The much-anticipated competition has come to an end! Your favorite exchange, ChainEX, in partnership with the Bitcoin Vault (BTCV) team, brought you a BTCV trading competition from 25 January 2021–31 January 2021. Were you among the top 70?
Out of a total of 711 traders, 70 came out on top. The top 3 participants in order of rank were Ruan Stander, Leboux William & Frans van der Walt! Congratulations to all who participated!
When do you get your BTCV?
Out of hundreds of traders and thousands of BTCV volume traded, you're among the top 70! 😄 Here's a recap on how much BTCV will be allocated to you soon based on your position.
I mean, It's all about the money, isn't it? 😆 The top 70 traders as highlighted in our leaderboard will each receive their fair share in Bitcoin Vault.
1st place: 20 BTCV
2nd place: 10 BTCV
3rd place: 5 BTCV
4th place: 3.5 BTCV
5th place: 3 BTCV
6th — 10th place: 2.5 BTCV
11th — 20th place: 2 BTCV
21st — 30th place: 1 BTCV
31st — 40th place: 0.75 BTCV
41st — 50th place: 0.5 BTCV
51st — 60th place: 0.25 BTCV
61st — 70th place: 0.1 BTCV
What are the highlights?
The top 70 traders have a total traded volume of 23143.09 BTCV, meaning 11571.5 BTCV exchanged hands during the competition. The total BTCV traded during the competition amounts to 28205.23 BTCV between 25 January — 31 January 2021
2020 saw a staggering 21.9 BTCV paid out in referral rewards, with December having the highest payout at 5.9 BTCV. The year just started and already 8.67 BTCV has been paid out during January 2021 as referral rewards!
In the space of a week, the BTCV competition alone saw a total of 28205.23 BTCV traded, and ultimately 100 BTCV paid out!
What's next at ChainEX?
At ChainEX we're always advancing, improving, innovating, and making waves! The competition has come to an end, leaving a lot of you traders asking and wondering "what's next?".
We'll soon be listing the ELcash coin! We're the first and currently the only exchange in South Africa to list UNI! LINK has also been listed on ChainEX! YFI & SUSHI will soon follow 😄 Keep an eye out on our social media and blog for more ChainEX developments 😄
So what happens now?
Well, that's easy. Carry on trading Bitcoin Vault!
ChainEX is a South African digital asset exchange that provides a platform for South Africans to buy, sell, or trade a variety of different digital assets using the South African rand as the default fiat-buying currency.
ChainEX provides you with a secure, online platform from which you can purchase and trade with different digital assets. Not only do we provide a platform for you to trade, but we also reward you for the people you refer!
We not only want you to succeed at ChainEX, but we also want you to impact those around you and potentially build your own crypto trading business. We've built the platform to allow you to invite and refer your friends and family to the platform and earn when they trade! For a complete guide on how the system works, read our article on it. ?
Get to know ChainEX
Who is ChainEX? | FAQ's | Sign Up | Facebook | Instagram | What is Bitcoin? | ChainEX Markets | ChainEX Security | YouTube
Disclaimer:
All content and topics covered are mere opinions and do not constitute investment advice. Trading and investing in Bitcoin carries a high level of risk. We do not assume any responsibility for actions taken upon reading any of our articles. ChainEX is not a financial advisory firm, nor are we an investment manager. ChainEX reserves the right to amend and change any rules.