Meet CZAR - The Stablecoin backed by ChainEX
Meet CZAR, the stablecoin backed and created by ChainEX!
A stablecoin is a type of cryptocurrency whose value is tied to an outside asset, such as the U.S. dollar, Rand, or gold, to stabilize the price.

Cryptocurrencies such as Bitcoin and Ethereum offer a number of benefits, and one of the most fundamental is not requiring trust in an intermediary institution to send payments, which opens up their use to anyone around the globe. But one key drawback is that cryptocurrencies' prices are unpredictable and have a tendency to fluctuate, sometimes wildly.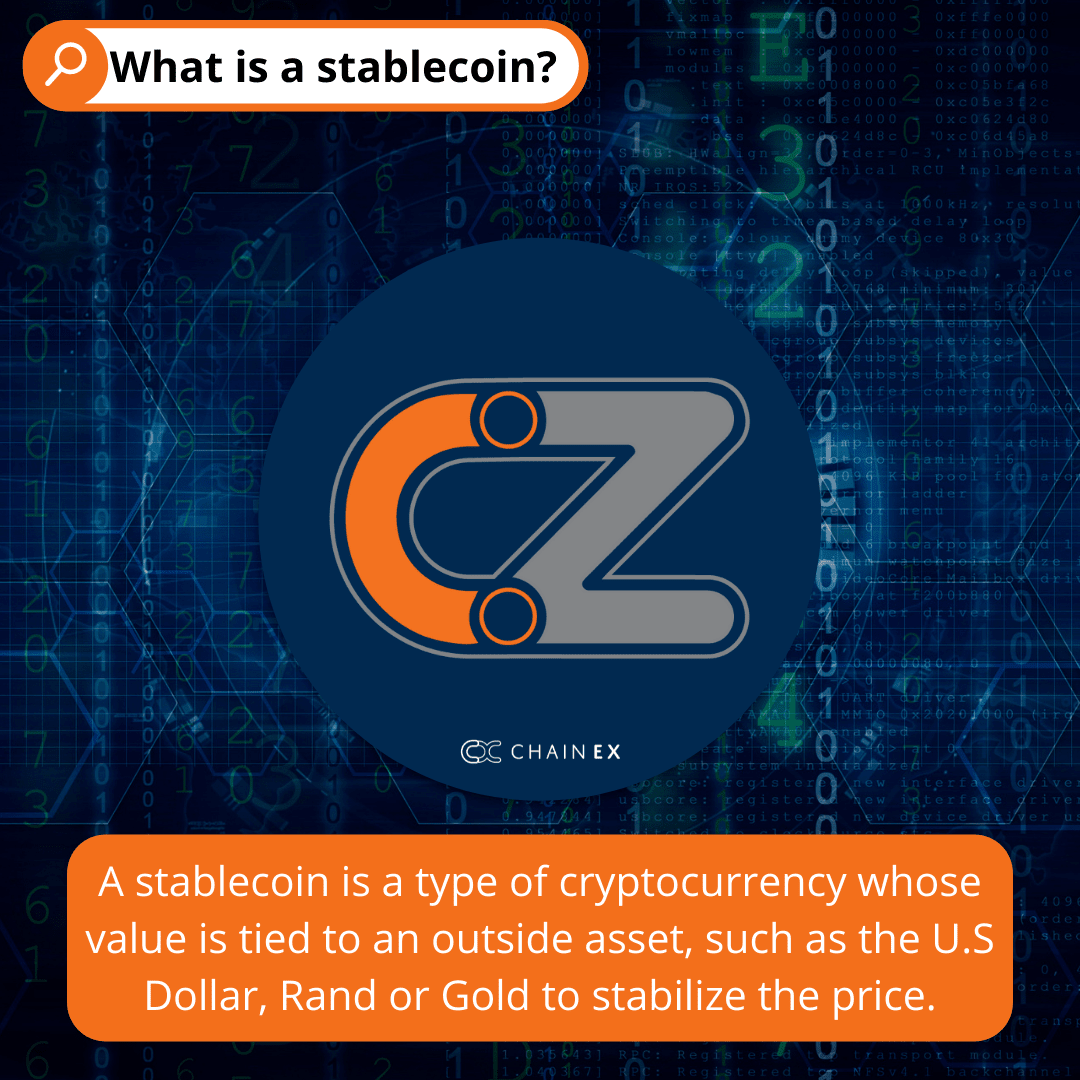 Stablecoins try to tackle price fluctuations by tying the value of cryptocurrencies to other more stable assets – usually fiat. Fiat is the government-issued currency we're all used to using on a day-to-day basis, such dollars and euros, and it tends to stay stable over time.
Usually the entity behind the stablecoin will set up a "reserve" where it securely stores the asset backing the stablecoin – for example, $1 million in an old-fashioned bank to back up one million units of the stablecoin.

What is CZAR?
CZAR is a stablecoin pegged to the South African Rand, backed and built by ChainEX, a secure and reliable cryptocurrency exchange. CZAR is a cryptocurrency built upon the Binance blockchain, that is pegged to the South African Rand, being a "stable" reserve asset. It is designed in this way to reduce volatility relative to unpegged cryptocurrencies like Bitcoin.

CZAR qualities:
CZAR is transparent, global and accessible to anyone on the internet twenty-four hours a day;
CZAR is fast, cheap and secure to transmit;
CZAR is digitally native to the internet and programmable.
CZAR is backed by South African Rands, assets, and investments equal to at least the value of the amount of CZAR that has been minted.
CZAR tokens are not money but are new assets that move across the blockchain just as easily as other digital currencies and thus facilitating the use of South African Rands in a digital manner. CZAR gives customers the ability to transact with a traditional currency across the blockchain, without the inherent volatility typically associated with a digital currency.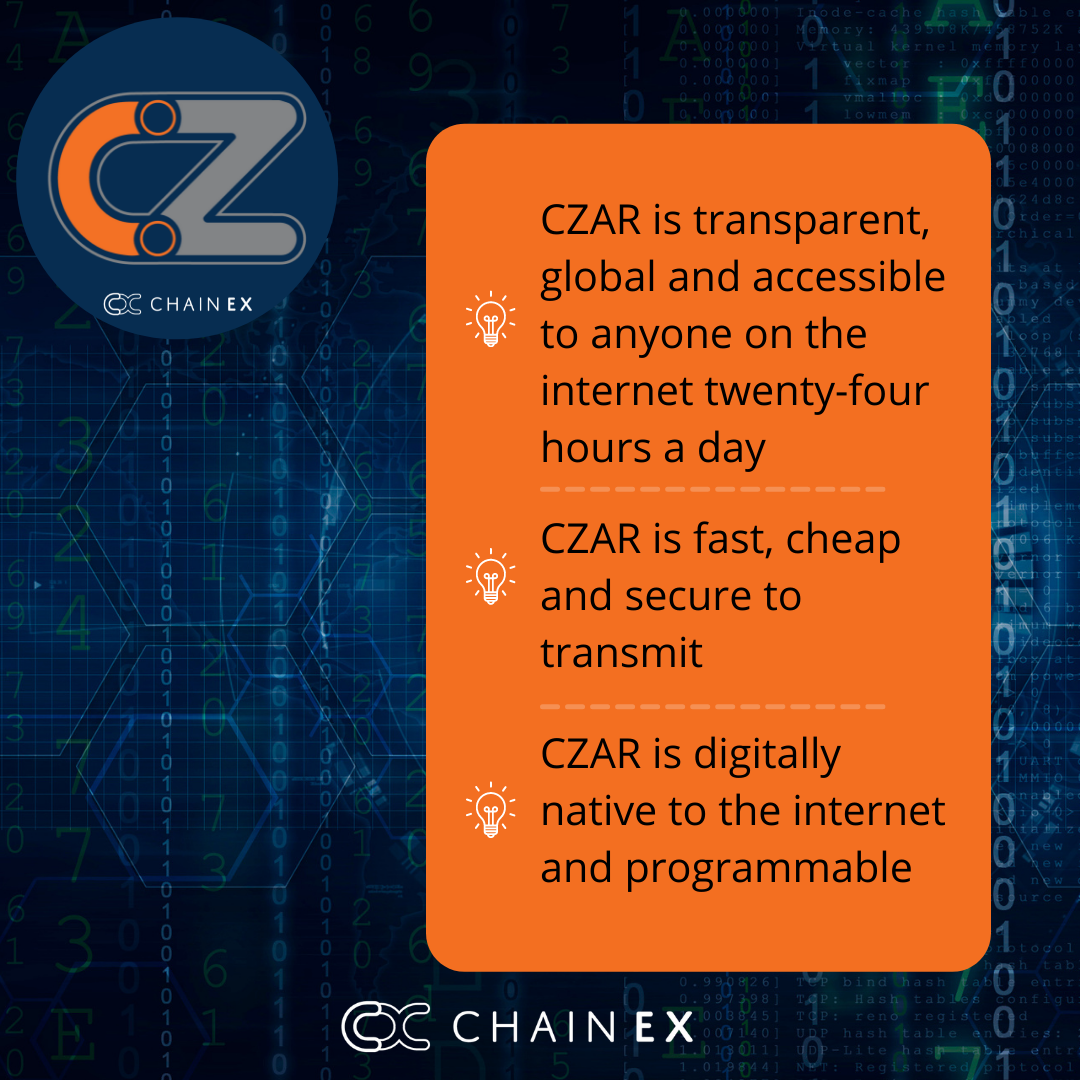 Frequently asked questions
Did ChainEX create its own coin?
Yes, CZAR is a stable coin created by ChainEX.
Is CZAR similar to USDT?
CZAR is a stable coin similar to USDT, except it's pegged to the South African Rand instead of the US Dollar.
Is CZAR only listed on ChainEX?
No, CZAR can also be traded on Pancakeswap, with many other listings pending as shown in our roadmap!
What can CZAR be used for?
Use on decentralised exchanges: Use CZAR to trade in DeFi markets;
Provide Liquidity: Use CZAR with DeFi AMM and liquidity pools;
Reduce the risk: Use CZAR to reduce the risk of price volatility within the cryptocurrency sphere;
Payments: Use CZAR to send to other people money both locally and across borders without the risk of price fluctuations;
Earn Fees: Stake CZAR to earn in liquidity pools on DeFi to earn trading fees!
Will I be able to change my CZAR into South African Rands?
Yes, as the CZAR tokens are minted on a 1:1 basis, each rand that is exchanged for CZAR is held by ChainEX and can easily be exchanged for South African Rands again.




What are you waiting for?
Now you've learned about CZAR and stablecoins. So what's next? Learn more about CZAR, study it, and understand it. Then buy your own!
Invite a friend to ChainEX and earn more free cryptocurrencies! Plus you'll be partnering with what could potentially be the best cryptocurrency exchange in South Africa. I mean, EVERYONE is talking about ChainEX.
ChainEX is a South African cryptocurrency exchange that provides a platform for South Africans to buy, sell, or trade Bitcoin, Ethereum and a variety of other different cryptocurrencies using the South African rand as the default fiat-buying currency. And also the first South African crypto exchange to list Bitcoin Vault, YFI, SUSHI, LINK & UNI! The South African crypto market is growing by the day!
ChainEX provides you with a secure, online platform from which you can purchase and trade with different cryptocurrencies.
Get to know ChainEX
Download your app | Who is ChainEX? | FAQ's | Sign Up | Follow Us |ChainEX Markets | ChainEX Security | |More friends, more crypto